Interview originally conducted with Taylor Swift on July  2007 by Jackie Lee King
Taylor Swift's story is being written; but believe it or not, this is only her first chapter, musically speaking. Her story begins in the small farm town of Wyomissing, PA where at the age of 10 she started performing at karaoke contests, festivals and county fairs. The first inkling that Taylor was going to be a star was when she sang the national anthem at a Philadelphia 76ers game at the tender age of 11. A year later she picked up a 12 string guitar and set out to be a songwriter. Taylor inherited her musical ability from her grandmother, a professional opera singer, and was supported by her family, who started charting regular visits to Nashville, TN to further her career. Eventually they moved to closer to Nashville to enable her to pursue her dream as a singer/songwriter. After writing about 250 songs (yes, that many) she started to work with other songwriters, like Robert Ellis Orrall and Liz Rose, and developed as an artist.
Now she's making appearances pretty much everywhere from stock car races and award shows, to highly visible concert tours. There is a lot on the horizon for this rising star. I talked with Taylor as she was getting ready for her debut performance on the Academy of Country Music Awards (ACM's), where she serenaded Tim McGraw with her hit "Tim McGraw," a song he obviously inspired. This was right on the heels of her CMT (Country Music Television) Music Award for Breakthrough Video for the same song.
The horizon for this rising star at Academy of Country Music Awards
Jackie Lee King: First of all, congratulations on the CMT award.
Taylor Swift: Thank you. Oh-my-gosh, the Academy of Country Music Awards – I could not believe that that happened. I went into that whole situation thinking, "You know what; I'm not going to win. It's gonna be great to be nominated for something for a start, I've never been. I haven't even been out long enough to be nominated for anything yet, so the CMT award was my first nomination. And it's [the award] fan voted completely; so I was completely overwhelmed with emotion when I accepted the award.
JLK: What's been the highlight of your day?
Taylor Swift: The highlight of my day so far is trying on the dresses that have been custom made for me for the ACM's this year. I have a performance dress that I'm wearing, cause I'm performing and I'm pretty excited about that, and it's like cream colored and it's got feathers at the bottom and it's so cute. And the red carpet dress is corseted so I can't even breathe at all, but it's really cute.
JLK: Isn't that going to make you a little more statuesque? What are you 5′ 11?"
Taylor Swift: Yeah and that's the number one comment when people meet me for the first time, is, "Wow I didn't think you would be this tall."
JLK: What else do you think the fans should know about you?
Taylor Swift: The funny thing about me is that I kind of say everything that comes to mind and don't really hold too much back. I don't have a lot of secrets. Drew and Cory [people mentioned in two of Taylor's songs] are all real people. That's like a huge question that I get all the time: "Are they real people?" Yeah, they are people.
JLK: You sound like you're really over them too.
Taylor Swift: Well you know, just a little bit. But you know, I love it though, because you know in my situation you can be going though a really tough time – like something that would inspire "Teardrops On My Guitar" [Taylor's second single off of her record] – and you know you don't get the guy, but you get a song that goes to radio and does well for you and makes you smile. So it kind of works out to your advantage no matter what happens.
Drew and Cory Are Real People in Taylor Swift Songs
JLK: Do you keep up Drew and Cory?
Taylor Swift: No, I don't actually. Usually, like after I write a song about somebody, I kind of get over it. If it's a heartbreak song or something like it, it usually helps me get though it, and I've actually gotten a few missed calls from Mr. "Teardrops On My Guitar.' And I'm not going back, because he's still got a girlfriend. What am I gonna say? That's probably the number one most awkward conversation ever.
No Diet for Taylor Swift
JLK: What's a moment of weakness for you?
Taylor Swift: Food is my moment of weakness, because I don't diet. I don't like it. For me, I would eat healthy, but I refuse to use the term "diet.' For a while there, I put out a single, and I was like, "I gotta get in shape man, I'm going on a diet.' And then I realized that's ridiculous. I'm happy with how I look and I'm not gonna you know…if I want to eat a cheeseburger it's going to happen.
JLK: So what does Taylor say no to?
Taylor Swift: (After a mischievous laugh) The thing is that, I've never cheated on anybody or done drugs or gotten drunk or anything like that, so there's not much to that, so I'm trying to think out of the box here. I don't know…let me come back to that. I need to think.
Taylor Swift's 2006 Tour
Since releasing her self titled debut in October of 2006 she has been constantly on the road. She's toured with country music stars George Strait, Ronnie Millsap, Rascal Flatts, Kenny Chesney, and is currently on tour with Brad Paisley (with Jack Ingram and Kellie Pickler). She is scheduled to appear on the Faith Hill / Tim McGraw tour this summer as well.
JLK: You are touring insanely, why is that?
Taylor Swift: Because it's the only thing that keeps me sane. Honestly, when I come home I literally just don't know what to do with myself, because I feel like I should be doing a meet and greet line or doing something.
JLK: What are you missing, being on the road?
Taylor Swift: Right now what I'm missing is the high school junior and senior year. I went to two proms, I got to go to two years of high school, I have great friends – but you couldn't pay me enough money to go back. I've always had different interests. I've never been a party girl; I've never been into that, that's just not me. I've always wanted to play music. And that fact – that I'm getting to do that – I'm so excited.
Taylor Swift Strikes Back With Prank
It's persistence that has made her successful. That kind of dedication can be grueling, but it seems to energize Taylor. When not on package tours with other artists, she's doing solo performances, meet and greets, and has even found time to prank Brad Paisley by appearing on stage in a tick costume, with fellow tour mates Kelly Pickler (Tick #2) and Jack Ingram (the Exterminator) during Paisley's performance of the song Tick. Taylor had been warned about Brad's practical jokes and wanted to strike first.
JLK: What future pranks do you have for Brad Paisley?
Taylor Swift: I can't tell you about the things that I have in production at the moment. I have an arsenal of pranks just in case he fires back. And I know he's going to, because I was kind of talking with him afterwards, and he was kind of hinting around that he was basically going to demolish me with pranks. So I figure when he strikes next I'll have the next new one ready.
Lucky Number 13
JLK: On your website, you mention that the number 13 is lucky for you, can you explain why?
Taylor Swift: I was born on December 13th, I turned 13 on Friday the 13th, I played on Jay Leno on February 13th. My album went gold in 13 weeks, the CMT voting for breakthrough video of the year the voting stopped on April 13 th. When I was at the CMT awards my record label had a row of seats arranged, and they didn't know what row it was going to be, and when they got there […] the ticket said that they were in letter M, which is the thirteenth letter, and my record label president's seat number was seat 13.
JLK: Are there going to be 13 songs on your new album?
Taylor Swift: I should put 13 songs on my new album. I'm actually about to start recording it. I've got, like, 75 written, and we just have to whittle it down to whatever number of songs we want to put on the album, and start recording.
Taylor Swift Shares Her World With Song
Taylor's musical writing comes across as a conversation that you would have with family and friends on your grandma's porch. She's just as approachable as her songs as she invites you to share in her world, and she holds nothing back. It's dizzying how her mind works: relentless and constant. She has the energy of her youth and the wisdom of age; an odd yet very refreshing collusion. She prefers dresses to jeans, but doesn't like high heels for fear that she may fall in public. Taylor is quirky and playful in conversation, as in her songs, but really just keeps it simple.
JLK: How is the new album going?
Taylor Swift: I wrote this song that I'm really excited about called "Fearless." It's about the best first date that I haven't been on yet. I just try and put myself in the position of "this is really happening,' and what would happen on the coolest first date. So I haven't ever written a song about, you know, that feeling before. I've written songs, but I haven't recorded them or put them on an album, and so I think that would be a cool. It's about angry, not sad . The whole thing – I think it's really going to be cool for people to see that sort of song coming out of me. I would tell you about every single song on the album right now, I just can't wait for you to hear it.
JLK: What is your writing process?
Taylor Swift: Well, for me they happen different ways. Like with "Tim McGraw" I basically started singing to myself, "When you think Tim McGraw I hope you think my favorite song." In my head it all came at once as a phrase with the melody and words. For other songs, I'll get a title. It will come into my head and I'll work backwards from that and I'll get a hook. But other times I'm just messing around on the guitar, and a really cool melody will just kind of come at me and which ever way I feel that it goes either happy or sad; angry or whatever I feel plays into it, I'll write around that.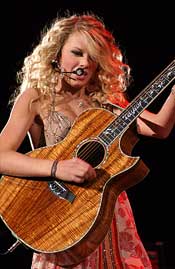 JLK: What are some of your influences?
Taylor Swift: I love Sheryl Crow a lot, and I think she's great. The candidness of her writing and how she tells it like it is, but still is vulnerable. I love that about her. I love Brad Paisley a lot and I'm lucky to be able to be touring with him. I think he's a genius, the way he writes. He can write something so touching it can make you cry, and then he can make you laugh so hard that you can't breathe.
JLK: One last comment?
Taylor Swift: The second album will trump the first. That's a guarantee.
Just then Taylor comes up with an answer to my previous question about what she should have said no to.
Taylor Swift: Oh…something I should have said no to the other day was…on the bus as it was going down the road and my fiddle player Emily was like, "Hey can you pass me the remote" and I got up and went to get it for her and fell and busted up my arm. I'm just really a clumsy girl. I should have just said no to that. "You know what Emily, you go get the remote."
More Chapters To Come From Taylor Swift
Her current CD is a collection of stories of Taylor's career, but it's certainly not the last chapter in her book. She has the one-two punch of being a singer/songwriter. With a continually expanding catalogue of songs under her belt there is no doubt that this is the beginning of a long and prolific career. After all, she is the first female artist in country music to write or co-write every song on a Platinum selling debut. I can't wait for the next chapter.
RELATED LINKS