On a weekend where I made it to the gambling capital of the world, I was lucky enough to experience the Dierks Bentley show in Las Vegas and fortunate enough to see a country concert that had a truly country atmosphere. With the National Finals Rodeo in town, the horde of Dierks fans consisted of almost all cowboys and cowgirls! I had never seen so many cowboy hats in one room, and it was truly a sight to see, but at the same time I was afraid that I was going to feel a lasso slip around my head at any moment. It made the last concert of his current tour all the better, and Dierks told the crowd he wished he could take all of us with him on his month-long holiday hiatus where he plans to 'Settle For a Slowdown.' He begins touring the Canadian peninsula come January 8 th, 2007.
Knowing that Dierks is becoming a true country star, seeing that Miranda Lambert and the Randy Rogers Band were the two opening acts, and realizing that he was playing a smaller venue that is the House of Blues in Las Vegas, I knew this was a must-attend show! Everyone who was fortunate enough to get tickets to this show knew that it had the potential to be a diamond in the rough. It's not often that you get to see a big star in such a small venue. He has, can, and will continue to play and sell out large arenas, but yet wanted to give something back to his fans by playing a small venue in the midst of his first headlining tour! He knew his fans helped get him to where he's at today, and gave them an amazing small-venue show. While there was no bareback or bull riding, it was a remarkable concert regardless.
Dierks was reaching into the front rows of the pit every chance he got, to high-five the ever-so welcoming fans, and even took a second to raise a fans glass up to the crowd. He took a sip of their 'Domestic, Light and Cold,' and then handed it back to them while the girls lost all control of their bodies and started shaking violently, and jumping out of their gourds. During the middle of the show, Dierks looked confused and amused, as he reached down with his guitar head, and picked up someone's underwear. He proceeded to play the next song with someone else's bottoms on his acoustic guitar. The crowd got a kick out of it, and I kept looking around for the person with no underpants on, wearing ass-less chaps!
During the encore of the show, Dierks came back out and played two songs with his band mates close by his side, all carrying their version of acoustic instruments. The change of sound came at the hands of an acoustic guitar, a stand-up bass, a mandolin, and a banjo. He then gave a 'shout out' to the troops that defend our freedom, and then sat down for the start of "Come A Little Closer" while the crowd helped sing every word.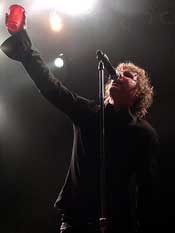 I stood next to a newly, happily married couple Austin and Melanie, and proceeded to dance with one of their mom's for the last couple of songs. The pit had plenty of energy, but with no room to move, they did not have the dancing atmosphere that those of us in the back shared! The last song of the set "What Was I Thinkin," Dierks got everyone all jacked up and energy-ridden for one last time as he sent them out into the never-ending night that Las Vegas has to offer!
So as the 'Locked and Loaded Tour' came to an end, we knew it wouldn't be the last we'd see or hear from Dierks Bentley. He is headed up north after the holidays to satisfy those crazy Canadians' need for country music, and then will be heading back down into the States to continue his takeover of country music. To get to the top, you need to work hard, believe whole-heartedly in what you are doing, have extreme talent, have the support of your friends and family, and be blessed with a little bit of luck. He seems to have all of this working for him considering he is one of only a very select few headlining tours in country music to ever be sponsored by Bud Light. Someone knows that Dierks is about to see three 7's come up on that proverbial slot machine, and that he will be on a fast track to a bigger and better place in country music.
RELATED LINKS